Strategic Marketing Planning, SEO Optimization, Social Media Initiatives
Boost your brand's online presence with our comprehensive digital marketing services. We specialize in SEO, social media campaigns, and targeted ads to drive growth and maximize your ROI. Tailored strategies, expert insights, and measurable results. Partner with us for impactful, data-driven marketing solutions.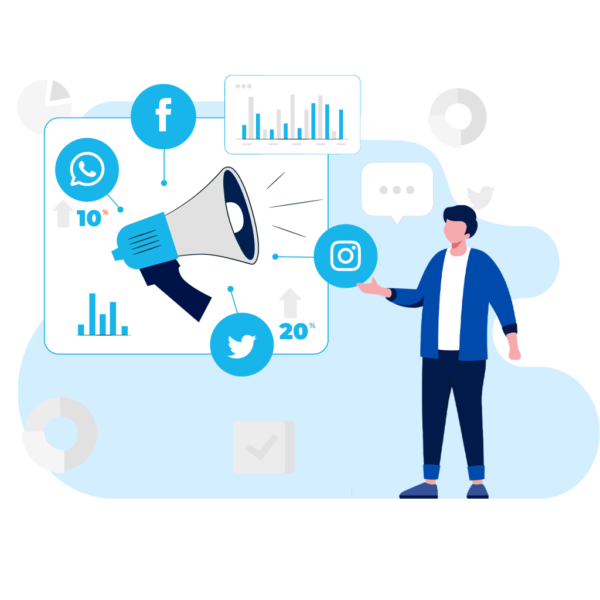 Holistic Strategy Development
Leveraging years of experience in diverse industries, I craft comprehensive digital marketing strategies tailored to your business's unique needs. My approach is rooted in understanding your target audience, business objectives, and the competitive landscape.
Search Engine Optimization (SEO)
Elevate your online presence organically. By optimizing website content, improving site architecture, and building high-quality backlinks, I ensure your services rank prominently on search engines, driving consistent and targeted traffic.
Pay-Per-Click (PPC) Advertising
Capitalize on immediate visibility. I design, manage, and optimize PPC campaigns across platforms like Google Ads and Bing Ads, ensuring maximum ROI by targeting the right keywords, demographics, and geographies.
Social Media Marketing
Engage and grow your audience. From content creation to community management, I harness the power of platforms like Facebook, Instagram, LinkedIn, and Twitter to build brand loyalty, foster engagement, and drive conversions.
Content Marketing
Position yourself as an industry thought leader. Through blogs, articles, whitepapers, and videos, I craft compelling content that resonates with your audience, establishing your brand as a trusted voice in your field.
Email Marketing
Cultivate lasting relationships. Utilizing segmentation and personalized content, I design email campaigns that nurture leads, retain existing clients, and drive repeat business.
Data Analytics & Reporting
Making data-driven decisions is paramount. With advanced analytics tools, I provide actionable insights, tracking KPIs, user behavior, and campaign performance, ensuring continuous optimization and growth.
Affiliate & Influencer Collaborations
Expand your brand's reach. I connect with relevant influencers and affiliate networks, tapping into new audiences and amplifying your brand message.
Online Reputation Management
Protect and enhance your digital reputation. By monitoring online mentions and reviews, I ensure positive brand perception, addressing concerns promptly and highlighting positive testimonials.
Continuous Learning & Adaptation
The digital world is ever-evolving. I'm committed to staying updated with the latest trends, tools, and technologies, ensuring that your marketing strategies are always ahead of the curve.
Start your digital marketing success story with us today – let's innovate, grow, and achieve remarkable results together!