Mobile App Excellence with Tech Nexus Technology Solutions: Transform your vision into powerful mobile apps. Our seasoned team utilizes the latest technologies to craft intuitive, fast, and secure applications tailored for diverse user needs. From concept to launch, we prioritize your goals, ensuring scalability and a seamless user experience, propelling your business to the forefront of the digital landscape.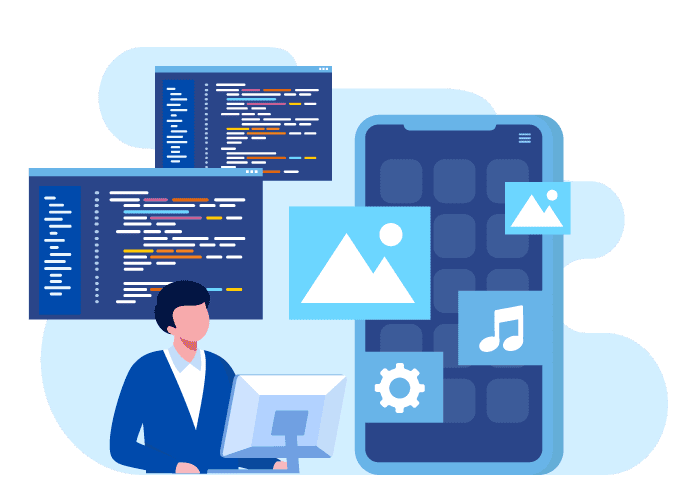 Customized Solutions
Every business is unique, and so are its digital needs. Our team begins by understanding your vision, target audience, and business objectives. Using this insight, we craft a mobile app tailored specifically to meet those needs and stand out in the marketplace.
End-to-End Development
From initial ideation to final deployment, our services encompass the entire app development lifecycle. This includes requirement analysis, design, development, testing, launch, and post-launch support.
Cutting-Edge Technologies
We pride ourselves on staying updated with the latest technological advancements. Whether it's integrating augmented reality features, machine learning algorithms, or IoT functionalities, we ensure your app is at the forefront of innovation.
 Cross-Platform Development
Reach your audience wherever they are. Our expertise spans across all major platforms, including iOS, Android, and hybrid solutions, ensuring a consistent and high-quality user experience.
Scalability and Performance
As your business grows, your app should too. We build apps with scalability in mind, ensuring they handle increased loads seamlessly. Performance optimization is at the core of our development process, guaranteeing fast load times and smooth functionality.
User-Centric Design
 An app's success is determined by its user experience. Our UX/UI designers focus on creating intuitive, engaging, and aesthetically pleasing interfaces, ensuring user satisfaction and increased engagement.
Robust Security
In an era of digital threats, the security of your app and user data is paramount. We implement advanced security protocols and practices, from data encryption to regular vulnerability assessments, ensuring your app is fortified against potential threats.
Dedicated Support and Maintenance
Our relationship doesn't end at launch. We offer dedicated post-launch support, addressing any issues, rolling out updates, and ensuring your app remains compatible with the latest OS versions and devices.
Analytics and Insights
Understand your users better. We integrate advanced analytics tools that provide insights into user behavior, app performance, and areas of improvement, helping you make informed decisions for future updates.
By choosing Tech Nexus Technology Solutions, you're not just getting an app; you're investing in a digital solution that grows, adapts, and evolves with your business, ensuring continued success in the mobile space.